On Sunday, April 29, ten Chinese students from the Affiliated High School of Peking University visited AHSS, along with their teacher, Dr. Garay Menicucci, Director of Counseling Services Aileen Lee, and Dean of Students Ma Miyun. They study at Dalton Academy, which offers a very advanced curriculum within the Affiliated High School, to prepare them to enter top universities abroad, especially in the US and UK.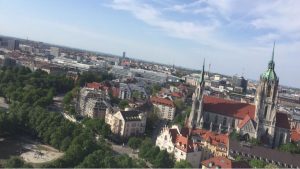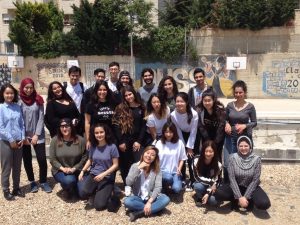 The overall focus of their two-week stay in Jordan is to investigate the situation of refugees here, while their visit to AHSS is intended to allow them to meet Jordanian contemporaries, forge friendships, upgrade their English-language communications skills and learn about others.
The Chinese group was hosted by team of 11th and 12th grade AHSS students: May Albayya, Maha Hayba, Haya Farid, Maram Diab, Moodie Alboresha, Waseim David, Mohamad Abu Hassera, Lujain Halasheh, Sarah Shaier, Samar Abdallah, Dana Minawi, Meriam Rihani, Sarah Badawi and Rand Shraim.
The two teams assembled in the AHSS auditorium, where they were welcomed by Mrs. Sue and had a few minutes of "Meet & Greet" to find the students with whom they had already exchanged emails.
The morning's program began with power-point presentations by students from each team about high school education in Jordan and China, respectively.
Next on the agenda was student presentations about the cultural heritage of the two countries, ranging from food, dress and dance to archaeological monuments.
At noon, the program wrapped up with pizza and juice in the AHSS patio.
On Monday, April 30th, the AHSS students joined the Chinese students for a trip to Ajloun Castle.
Tuesday May 1st was official holiday and some of the AHSS students joined the Chinese Students for a trip to the Dead Sea.
Written by: Osama Shammout 11-SAT