Google Classroom is a web-based learning environment. When logged into Google Classroom, students can collaborate with their peers and teachers. Google Classroom offers a digital safe space for students to view class announcements, access posted course content, view posted assignments, and turn in completed work.
Parents can access their child's teachers' Google Classroom in one of the following ways:
Ask the student to login and launch the Google Classroom App.  Please note that any activity in Google Classroom is documented under the student's login and it would be inappropriate for a parent to communicate with the teacher or other students in Google Classroom. Parents should use their personal email to digitally communicate with the teacher.
From any computer with internet access, click this link https://classroom.google.com and have the student login with his/her username and password. 
1. Go to classroom.google.com.
2. Select the class of the teacher you want to email.
3. Click People.


4. Next to the teacher's name, click Email

.
Note: If you don't see Email

, you might be using a personal email account, or the admin turned off email.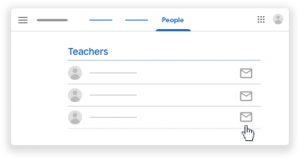 5. In the new email, enter your message, then click Send.