Students of grade 9 IG have made a tremendous work showcasing their experiments that of which they have encountered and studied during their previous semesters learning chemistry. The following is a statement made by a student explaining the experiment:
Our chemistry presentations were all about what we had learned in the past year together, it included what we learned in all the chapters of our chemistry textbook, therefore, connecting the dots between a chapter and the other. What we did essentially was that we divided our class into groups, each group was given specific tasks in which they had to showcase some of the syllabus's most important sections (things we learned with our teacher: Mrs. Nour) we had also been granted a full access to the laboratories at any time so that we would practice out our assigned presentations.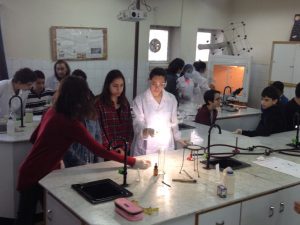 Some of our experiment were :
Fractional distillation
Simple distillation
Comparison between physical and chemical changes
Chromatography
Filtration
Evaporation
Crystallization and many other…
The experiments were done with the help of our lab technician Mrs. Wedad and our teacher Mrs. Nour and we greatly appreciate their efforts.